Obsolete bookmarklets, user scripts, etc.
About this page
This is a page for things that were on my main user scripts page that no longer work or are no longer necessary. See that page for more details, and also see that page for things that actually work.
Contents
(Click the link to go to the section; actual bookmarklet links below.)
No YT Autohide [B]
Since I have the stylesheet (on the main page), I haven't been keeping the bookmarklet up-to-date, and it doesn't really work anymore. (I should fix that at some point.)
Fix the new YouTube player so that the playback bar is always visible and doesn't cover up the bottom of the video. Apply the user style (better), OR put the bookmarklet in your bookmarks bar, and click it when you have a video open (the bookmarklet will apply only to that tab).
Known issues:
For some reason the change seems to be partially applied to any other videos you open on the same tab; refreshing seems to get it back to normal, and re-clicking the bookmarklet fully reapplies this fix. (Only an issue in the bookmarklet version.)
(actually the bookmarklet hasn't been tested recently; use the user style instead)
YouTube doesn't update the time unless it thinks that the controls are visible; fix this by keeping the mouse cursor over the play button.)
Clicking the circled-i icon breaks it a bit. Re-clicking on the bookmarklet fixes it. (Less of an issue in the user style version.)
Bookmarklet: No YT Autohide (bookmark this link)
javascript:document.getElementsByClassName('ytp-chrome-bottom')[0].style.bottom='-41px';document.getElementById('movie_player').style.overflow='visible';document.getElementById('placeholder-player').style.marginBottom='51px';document.getElementsByClassName('ytp-gradient-bottom')[0].style.display='none';document.getElementsByClassName('ytp-chrome-bottom')[0].style.opacity='1.0';document.getElementsByClassName('ytp-chrome-bottom')[0].style.background='black';document.getElementById('movie_player').style.cursor='default';undefined;
Beautified:
javascript:
document.getElementsByClassName(

'ytp-chrome-bottom'

)[

0

].style.bottom = 

'-41px'

;
document.getElementById(

'movie_player'

).style.overflow = 

'visible'

;
document.getElementById(

'placeholder-player'

).style.marginBottom = 

'51px'

;
document.getElementsByClassName(

'ytp-gradient-bottom'

)[

0

].style.display = 

'none'

;
document.getElementsByClassName(

'ytp-chrome-bottom'

)[

0

].style.opacity = 

'1.0'

;
document.getElementsByClassName(

'ytp-chrome-bottom'

)[

0

].style.background = 

'black'

;
document.getElementById(

'movie_player'

).style.cursor = 

'default'

;
undefined;
Enable TVTropes display options [G]
Update: This script seems to no longer be necessary since their latest redesign.

On each page in TV Tropes, there are various display options. When you're not logged in, only "Show Spoilers" is enabled, with the other options prompting you to log in if you click them. However, if you enable the options, they work perfectly fine, and there's even perfectly working code to save the options locally like how Show Spoilers works (except for Wide Load, but this script also fixes that). Thus, this script enables those options.
Notes:
If the window is below a certain width, these options will be in the three-lines menu at this top-left; night vision (dark theme) doesn't affect this menu so its effect won't be obvious immediately. If the window is larger, the options are in a column on the right side of the page.
TV Tropes will still load these options without the script; if you turn on an option, then disable this script, the options will be stuck on.
Wide Load only works if the window is wide enough; otherwise it makes everything slightly narrower. (Wide enough is wider than my screen; I had to zoom out just to see what it did.)
I have not tested these when logged in, or on any page that doesn't have these options or has other options as well.
The user script: Enable TVTropes display options
Current forum game scores (xkcd forums) [B]
(xkcd forums don't seem to exist anymore ☹)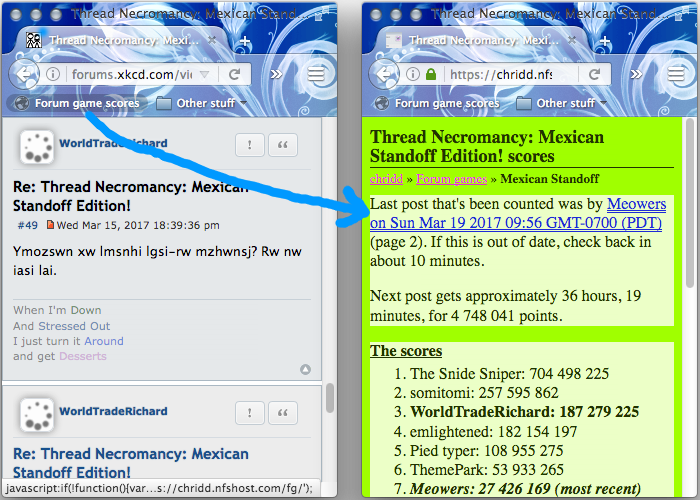 Go directly to the scores for the forum game you're currently viewing. If not available, go to the list of forum game scorekeepers. This is similar to clicking the link in my signature, except it works even if I haven't posted in the thread recently, and is more reliable when viewing new posts.
The bookmarklet: Forum game scores (bookmark this link)
javascript:if(!function(){var h2=document.getElementsByTagName('h2');if(h2.length==0)return;var a=h2[0].getElementsByTagName('a');if(a.length==0)return;var r=a[0].href.match(/^https?:\/\/(?:www\.)?(?:(?:forums3?|fora)\.xkcd\.com|echochamber\.me)\/viewtopic\.php\?([^#]+)/);if(!r)return;r=('&'+r[1]+'&').match(/&t=(\d+)&/);if(!r)return;return location='https://chridd.nfshost.com/fg/referer?t='+r[1];}())void(location='https://chridd.nfshost.com/fg/');
Beautified:
javascript:


if

(!

function

() {
	

var

 h2 = document.getElementsByTagName(

'h2'

);
	

if

(h2.length == 

0

) 

return

; var a = h2[0].getElementsByTagName('a');
	if(a.length == 0) return;
	var r = a[0].href.match(/^https?:\/\/(?:www\.)?(?:(?:forums3?|fora)\.xkcd\.com|echochamber\.me)\/viewtopic\.php\?([^#]+)/);
	if(!r) return;
	r = ('&'+r[1]+'&').match(/&t=(\d+)&/);
	if(!r) return;
	return location = 'https://chridd.nfshost.com/fg/referer?t='+r[1];
	
}())
	void (location = 'https://chridd.nfshost.com/fg/');

Miscellaneous
Fix Bitbucket scrolling [S]: Bitbucket for no apparent reason has the main content scrolling separately from the window, which makes scrolling work weirdly (scrolling diagonally doesn't work). User style: Fix Bitbucket scrolling (This doesn't seem to be an issue anymore.)